How to Backpack in Point Reyes National Seashore
Point Reyes National Seashore is a beautiful getaway from the city of San Francisco and Silicon Valley. It's hard to believe this lush ocean escape is only 1.5 hours north of SF in Marin County. Point Reyes has many trails and campsites, but I'll be giving an overview of a one-night backpacking trip I've been on to Glen Camp and a general "how-to" go about making reservations to backpack here.
STATS
Date: 4.16.17 - 4.17.17

Miles: 16.3 mi

Elevation Profile: +4,065, -4,065

Trail Type: Lollipop Loop

Cost: $20/ night, $140/ week

Special Considerations: No dispersed camping, food lockers present at every site, no pets allowed
PERMITS & CAMPS
Due to the popularity of camping at Point Reyes, a reservation system is essential to prevent overuse. You can reserve campsites up to 6 months in advance on recreation.gov.
These campsites are highly sought after, and it is very difficult to get a weekend permit if you don't get online exactly 6 months before your anticipated departure date. Weekday itineraries are much less popular, and you are likely to get a permit at any camp if you go Sunday-Thursday. The most popular campgrounds are the Wildcat Camp and Coast Camp because they are close to the ocean. Sky & Glen camps do not have coastal views, but are more sheltered from the elements. Once you pay for your campsite online, you have a reservation. You will pay a penalty if you cancel the reservation, but will get some of your money back. On the morning of your trip, you need to go to the Bear Valley Visitor Center to get your official permit.
It is important to note that there is NO dispersed camping allowed in Point Reyes. You must camp in a designated campsite. Each campsite has a food locker, so you don't need to bring an Ursack or bear canister, but you should bring some food "protection" like a food bag because we found that mice could still get in the locker and will definitely try to get your food. Each site also has a picnic table and charcoal grill, and each campground has pit toilets and a water spigot with filtered drinking water.
THE HIKE
There are tons of trails in the area, and some have shorter traveling distances to camps. My mom and I were using this trip as a shake-down for our summer Yosemite backpacking trip, so we wanted to hike more miles. We started at the popular Palomarin Trailhead and completed a loop to Glen Camp.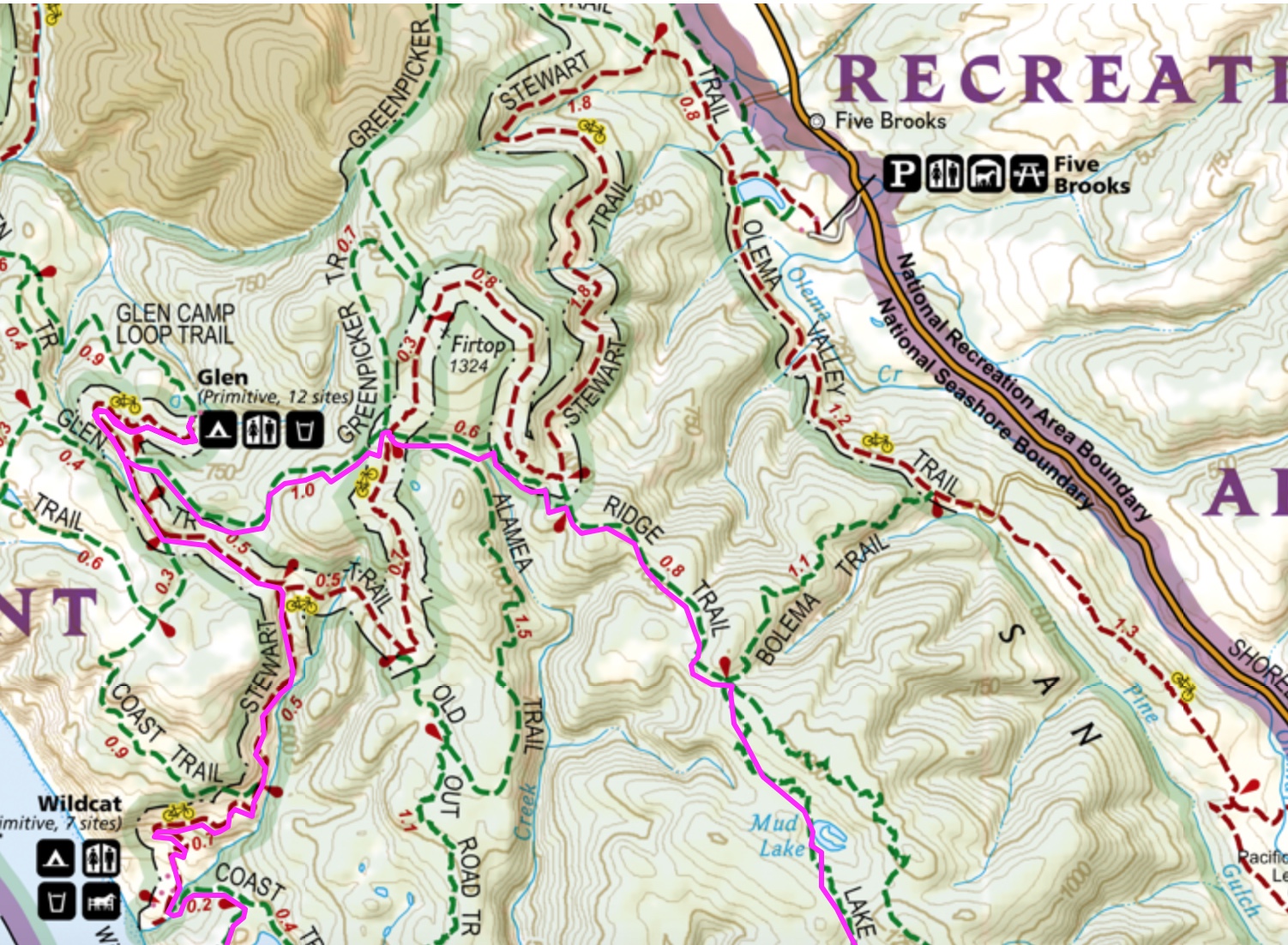 Day One: 8.25 miles, 1,870 ft elevation gain, 1,500 ft loss
Begin on the Coast Trail, walking through a beautiful grove of eucalyptus trees before the trail opens up to coastal views. There is a lot of evidence of landslides along this portion of trail.
As we were approaching the junction with the Lake Ranch Trail, it started pouring down rain! The rest of the day we battled with the rain and mud, so I don't have many photos. After Lake Ranch, you'll join up with the Ridge Trail and begin following signs to Glen Camp. The majority of the hike is under canopy, and I wish it wasn't raining so hard so I could enjoy it more! It was very pretty, but the mud is crazy, so be prepared if hiking in the rain/ winter/ spring.
After battling the rain, we arrived at our campground! We had Site 5, which I highly recommend reserving as it is more secluded from the other sites. I believe sites 6 - 8 are good too. The rest are on the bottom level, more open and exposed, and much less privacy.
Day Two: 8.10 miles, 1,500 ft elevation gain, 1,850 ft loss
We began our second day on trail to no sun, but no rain too! Instead there was tons of moody fog, my favorite. It made our campsite look so beautiful!
We hiked out the way we came in, on a service road (yes, service cars drive on the road, so be aware!). We had originally planned to take the Glen Trail back to the Coast Trail, but the rains from the previous day had flooded at least the beginning of that trail, and we really didn't want to get our feet wet since we were dry! So we stayed on the service road, aka Stewart Trail, which was pleasant. I didn't feel like we were missing out on anything. We even saw a banana slug!
We took the Stewart Trail all the way down to Wildcat camp, one of the popular camps in Point Reyes. It has beautiful views of the ocean, but after the weather we had last night, I was happy we stayed somewhere more protected! I'd love to stay here though: great access to the beach, so you can beach walk to Alamere Falls instead of the sketchy scrambling that most day hikers do.
After all that downhill, we began climbing again, though not much. We were now hugging the coast line, so we had great views!
We decided to take the Ocean Lake Loop trail, just because I thought there might be better ocean views. I can't compare it to the Coast Trail, but I thought it was pretty sweet!
Once we got back onto the Coast Trail, we were practically done! We did pass over the creek that becomes Alamere Falls, but we didn't take the detour to the falls due to the weather and we were pretty beat!
We passed by one last lake on our way out: Bass Lake. I know that people swim at Bass Lake in nice weather, and I believe there may even be a rope swing somewhere out there! After joining back with the Lake Ranch Trail junction, it was back the way we entered to the car to dry out at warm up!
This was such a great backpacking trip, even though we had a lot of rain and cloudy weather, I think it enhanced the beauty of this place! Everything was so lush and green thanks to the crazy winter we had, so I don't know what it normally looks like, but I highly recommend going in the spring! Realistically though, the Bay Area has very mild weather, so this hike can be done any time of the year, just make sure you pack for cold weather in the winter months, and be prepared for lots of people in the summer!